The HyperX Alloy FPS Pro is a high quality tenkeyless or TKL mechanical keyboard. As such, it's a keyboard that's missing the standard numeric keypad or numpad. If you're not an accountant, you basically rarely use the numpad anyways and this keyboard will be a great fit.
We use it for day to day programming work since mechanical keyboards are amazing for typing accuracy and comfort. On top of that, using a tenkeyless form factor allows you to place the mouse or trackball closer to your body which is more comfortable and ergonomic.
Below is a reference of all the extra commands you can activate by pressing down the function key Fn and hitting the appropriate key.
Media
FN + F6: Previous track
FN + F7: Play/Pause
FN + F8: Next track
FN + F9: Mute/Unmute
FN + F10: Volume down
FN + F11: Volume up
Backlighting
FN + Arrow up: Increase backlight brightness
FN + Arrow down: Decrease backlight brightness (Can go down to being off)
FN + Arrows left and right: Switch between the backlight modes (Check the manual for more info)
Misc
FN + F12: Enable Game Mode to disable the Windows key (Toggles an indicator light)
FN + Esc: Keyboard factory reset (Press Fn+Esc keys for 3 seconds until the keyboard backlight blinks)
Keyboard Layout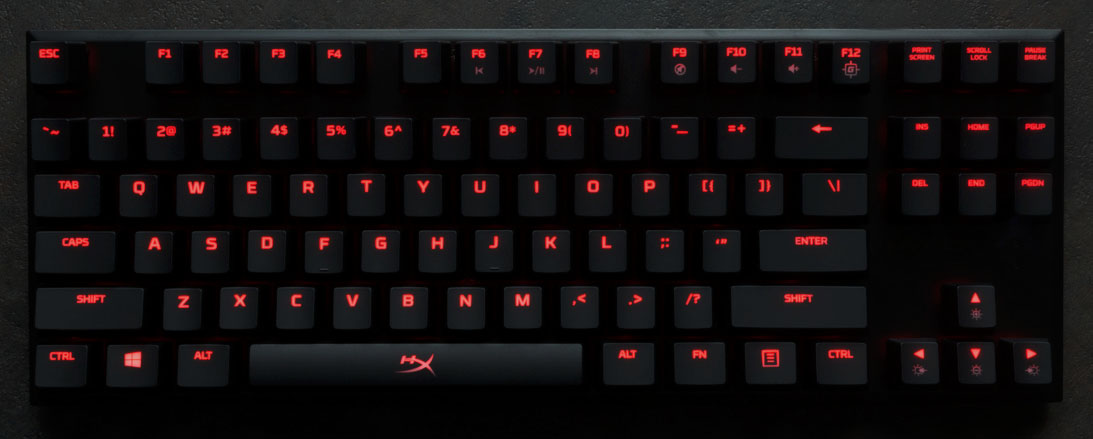 Download Manual
HyperX Alloy FPS Pro User Manual English
---
Technology
HID
Keyboards
Cheat Sheets
Share this post
---
Founder of SOFTKUBE, lead developer, and getting things done addict. Passionate about open source, user interface design, business development, and the tech world.
---
A small team of experts developing simple, usable, and high-quality web solutions. We blog about business, entrepreneurship, web development, and technology.
---
Recent Posts
Custom Theme Migration from Drupal 9 to Drupal 10
How to Change the Most Recent Git Commit Message
How to Make Google Chrome Forget a Permanent HTTP 301 Redirect
Finding and Fixing Unintended Body Overflow to Remove Horizontal Scrollbars
---
All Posts Categories
Business Cheat Sheets CLI Design Development Downloads Drupal Email Google Apps HID Keyboards Multilingualism Open Source Philosophy PHP Pointing Devices Productivity Quotes Science Security SEO Technology Thoughts Windows Zend Framework
---